Meet Michael!

Nathan Bragg  |  November 2, 2023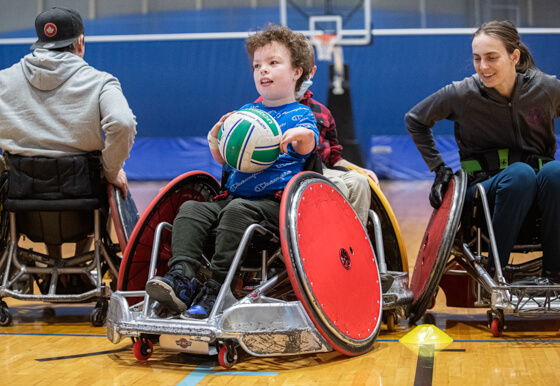 By supporting BCWSA, you can help change lives through sport by donating to BC Wheelchair Sports and making an impact on the journeys of athletes across the province.
Athletes like Michael, a 12-year-old wheelchair rugby player who brings infectious energy and a great competitive spirit to our Junior Wheelchair Rugby Program. Alongside his teammate Mattie, Michael is one of the first members of this new program that introduces younger athletes to this exciting contact sport that he's discovering a talent for.
"I like that it's a team sport, it's fun scoring tries, getting to hit other chairs and trying to dodge people." – Junior athlete, Michael
A quick study, Michael has quickly adapted to pushing a rugby chair and works hard every session to improve his skills, always trying to find new ways to adapt and succeed.
The Junior Rugby Program also introduces athletes to Senior Athletes from the Vancouver Wheelchair Rugby Club who serve as mentors and coaches to the young athletes, ensuring that they have a positive start in the sport and role models who have similar experiences and challenges to their own.
"We were told at a young age that Michael was an athlete, and that we needed to get him involved in sports. Although we put him in many activites, having him participate alongside his peers, playing without any inhibitions, and enjoying the competitive nature of team sports is amazing to see. The inclusion and accessibility that comes from these types of programs allow for our son to be empowered in his journey in navigating his disability and participating in the way that he wants to."
– Leanne, Michael's Mom
This past June, Michael also got a chance to meet Canadian wheelchair rugby star Zak Madell at the Canada Cup and see athletes that looked like himself compete at the highest level! He hopes to one day follow their trail and compete for Canada!
If you can see it, you can be it and Michael's parents say that he's gained confidence through Wheelchair Rugby.
It's thanks to donors like you that these moments and positive changes are possible! Your generous support helps fund programs, supply equipment and assists BC Wheelchair Sports in breaking down barriers to sport for people with disabilities across BC.
"We want to say thank you to everybody who donates to wheelchair sports, or supports in other ways because it allows for barriers and limitations to be removed for people who want to participate in sports. With all of the equipment necessary to play the sports, the cost could be very high Removing these costs and other barriers creates an inclusive and accessible environment for people to thrive." – Leanne and Kevin, Michael's parents.
Your donations help support athletes like Michael to discover their potential, gain confidence and chase dreams every day. Donate today and help make sure more kids like Michael experience the power of sport!