Indigenous Bridging the Gap (IBTG)
Overview

The Indigenous Bridging the Gap Program aims to remove barriers to participation in sport for Indigenous individuals with disabilities across BC. The program applies the components of the Bridging the Gap program through a cultural lens to ensure greater success in providing a positive experience for the participants and their communities.

Through this program, we hope to support more Indigenous individuals with disabilities to get active by improving awareness of wheelchair sports opportunities and removing barriers to participation. We'll accomplish this by helping individuals and communities access equipment through our wheelchair loan program, provide fun, safe and supportive opportunities for people to try wheelchair sports in their own communities, and offer mentorship from our experienced athletes, coaches and staff.

‍

Bridging the Gap aims to introduce and support continued involvement of individuals with physical disabilities in wheelchair sports and recreation opportunities, promoting an active healthy lifestyle and improved quality of life.
A Collaborative Approach

By collaborating with Indigenous delivery organizations and with Indigenous leaders embedded within the community, we are able to upscale their skills and knowledge while also developing trust and rapport with those already working within the Indigenous community.

This delivery model will provide the Indigenous lens from those within the community while BCWSA provides the programming support through our peer mentors, coach and staff support, and equipment legacies. This collaborative and culturally driven approach will help to create a lasting impact for Indigenous peoples with a disability and their communities with the goal of getting more people physically active and involved in sport.

We aspire to create long-lasting relationships with the communities that we serve and to work collaboratively with our partners to have a meaningful impact on Indigenous individuals with disabilities, their families, and their communities.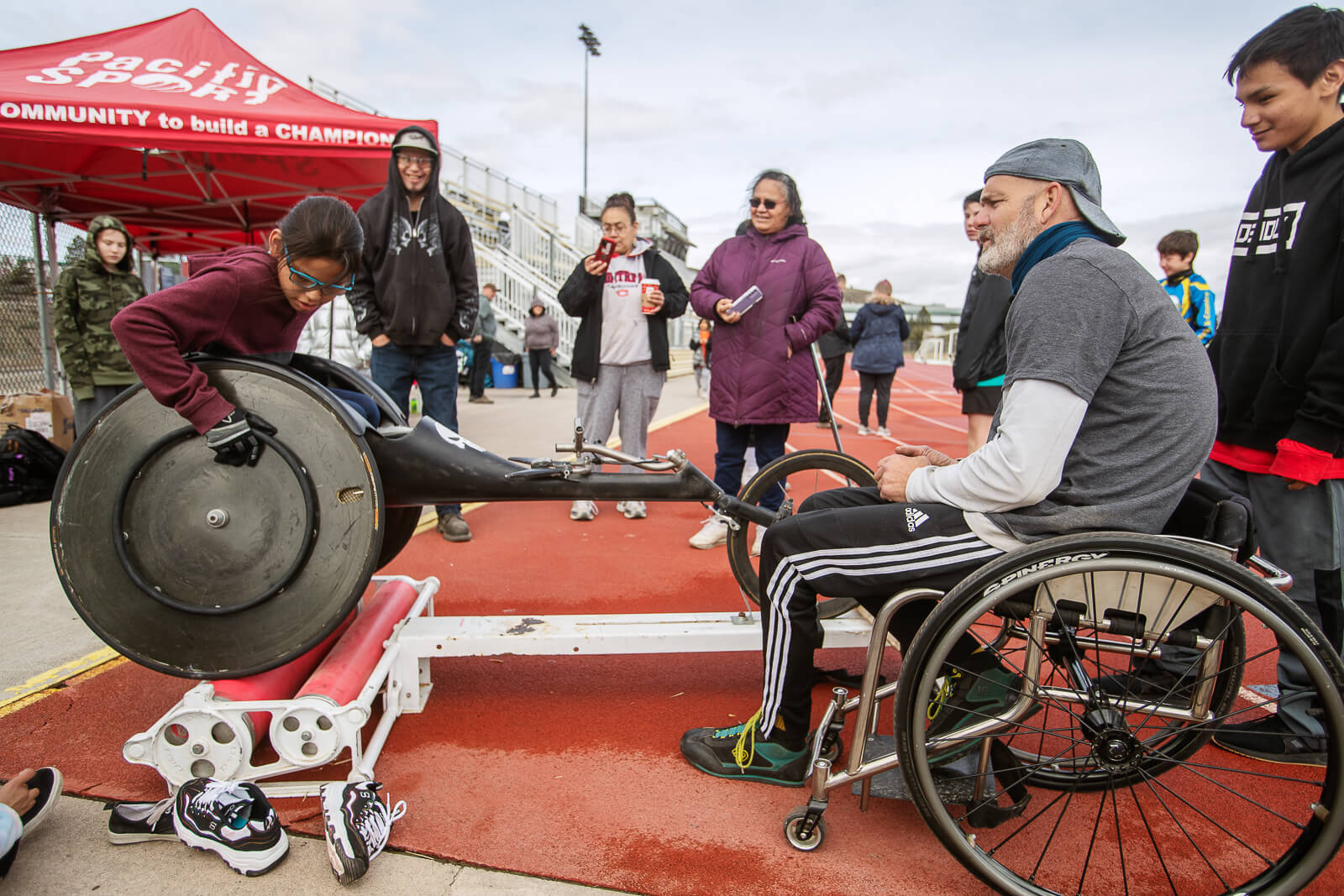 IBTG Pillars
Focused on three main pillars, the IBTG aims to not only get more individuals involved in sport but to also build stronger connections and relationships between BCWSA and Indigenous communities and Indigenous-led and/or focused organizations.
1. The development and strengthening of partnerships between BCWSA and Indigenous communities, organizations, service providers, and other groups that work with and within those communities such as ISPARC and others.

2.  Awareness initiatives to enhance BC Wheelchair Sports' and /our broader community's knowledge and understanding of the Indigenous culture while increasing the awareness of adaptive sport within Indigenous communities and partner organizations.  This includes participation in workshops and the completion of the Aboriginal Coaching Module (ACM) by all of our coaches and staff.

3. Program delivery initiatives focused on providing wheelchair sport opportunities for Indigenous communities and supporting Indigenous peoples with a physical disability get involved in wheelchair sports and get active for life.
Why IBTG?

According to the British Columbia Aboriginal Network on Disability Society, "the Indigenous population of Canada experiences a disability rate twice that of the general population, at approximately 30%". Individuals with a physical disability also experience poorer health outcomes compared to their non-disability peers, which includes increased likelihood for cardiovascular disease, obesity, anxiety, depression, and social isolation.

These negative health outcomes are compounded with the additional social and economic barriers to participation experienced within Indigenous communities. However, there is a substantial amount of research linking participation in wheelchair sports to improved physical health, increased socialization and peer connectivity, improved cognitive abilities, and decreased mental health issues.

Research has also linked sport participation with an increased likelihood of employment and reduced likelihood of at-risk behaviors, all of which contribute to improved health and overall quality of life."