Kamloops Legacy Wheelchair Tennis Tournament
Fun in The Sun!

The Kamloops Legacy Wheelchair Tennis Tournament brings athletes from the ITF UNIQLO World Wheelchair Tennis Tour to Kamloops each July to compete for titles and world ranking points.

With a combination of local players and those with global flair, the Kamloops Legacy Wheelchair Tennis Tournament is an important stop on the Canadian leg of the world tour and regularly features many exciting matches.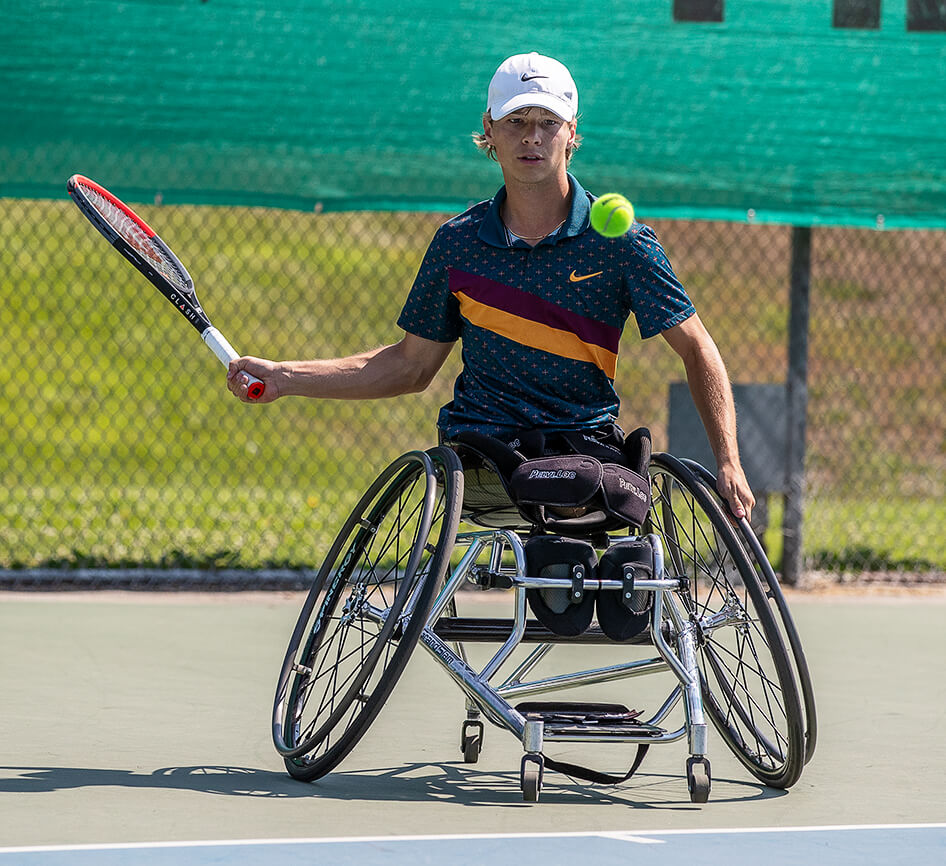 July 8-10 2023
2023 ITF Futures Kamloops Legacy Wheelchair Tennis Tournament
The 2023 edition of the tournament featured top players from across Canada and the United States.  American Connor Stroud won a thrilling 3-set match over BC's Thomas Venos to take the Men's Singles title.
Teenage tennis phenom Maylee Phelps won Women's Singles and fellow American Charlie Cooper claimed the Junior Singles crown.
Relevant Links

Downloads
Tournament Director

Michelle McDonell
Wheelchair Tennis

Rules

Wheelchair Tennis follows the same rules as able-bodied tennis. The only difference is Wheelchair Tennis players are allowed two bounces of the ball; provided the first bounce occurs within the bounds of the court. Players feet, legs and buttock must also stay in the chair or on the seat when striking the ball.

The events are singles (between two players) and doubles (between two pairs) across the divisions.

Matches at the Vancouver International are three set matches – The winner of a match is determined by the first to win two sets.

Who Can Compete?

To be eligible to compete, a player must have a medically diagnosed, permanent, mobility-related physical disability which must result in a substantial loss of function in one or both lower extremities.

Each Wheelchair Tennis player is classified based on their functional ability.

There are two class divisions, "Open" and "Quad".

Open Division:  Players have a permanent, substantial or total loss of function in one or both legs. They do not however have impaired upper body function.

Quad Division:  Players with a physical impairment in one or both of their legs along with one or both of their arms.
2022 Results

Draws from the 2022 Vancouver International
SPORTS

Tennis at BCWSA

The Kamloops Legacy Wheelchair Tennis Tournament one of our main tennis events, but its far from the only Wheelchair Tennis initiative we run at BC Wheelchair Sports. For more information on the sport and our programs contact Michelle McDonell today!