Team BC Win Five National Titles at 2023 Birmingham Nationals

Nathan Bragg  |  October 17, 2023
Team BC athletes put in phenomenal performances at the 2023 Birmingham National Wheelchair Tennis Championships in Bedford, Nova Scotia from October 12-15. The team brought home five National titles and a ton of personal bests.


Men's Singles
Eight of the nine Team BC members competed in Men's Singles with Thomas Venos continuing his reign as champion and completing the four-peat, winning all of his sets and ultimately prevailing over Quebec's Jean-Paul Melo in the final. 




Barry Henderson (Mission) finished in 3rd place and now shifts gears to his Parapan Am Games debut with Team Canada in November. Se-Youn Moon also made it into the Championship Flight, finishing a career-best 8th at this year's National Championship. 

Teenager John Chen had a tough pool but bounced back in the knockout stages and won the consolation bracket for the 2nd straight year to finish 9th in Men's Singles despite being one of the younger competitors. Mark Hansen-Bukata also fared well in the consolation bracket, finishing 11th. 

Junior Lachlan Sandford put together his strongest competition to date, winning three matches in the Men's Division over the course of the tournament to finish 13th. BC teammate Patrick Levis followed him in 14th and Samuel Peters (the tournament's youngest competitor) rounded out Team BC in 15th, picking up his first win in the Men's Division along the way!

Men's Doubles
The BC dynamic duo of Thomas Venos and Barry Henderson brought home their 4th Doubles titles as a duo and Thomas' fifth overall. The impressive pair dropped only two games all tournament en route to the title. 

Two more all-BC duos competed with John Chen and Se-Youn Moon getting the better of Mark-Hansen-Bukata and Lachlan Sandford before falling to the champs in the semifinals.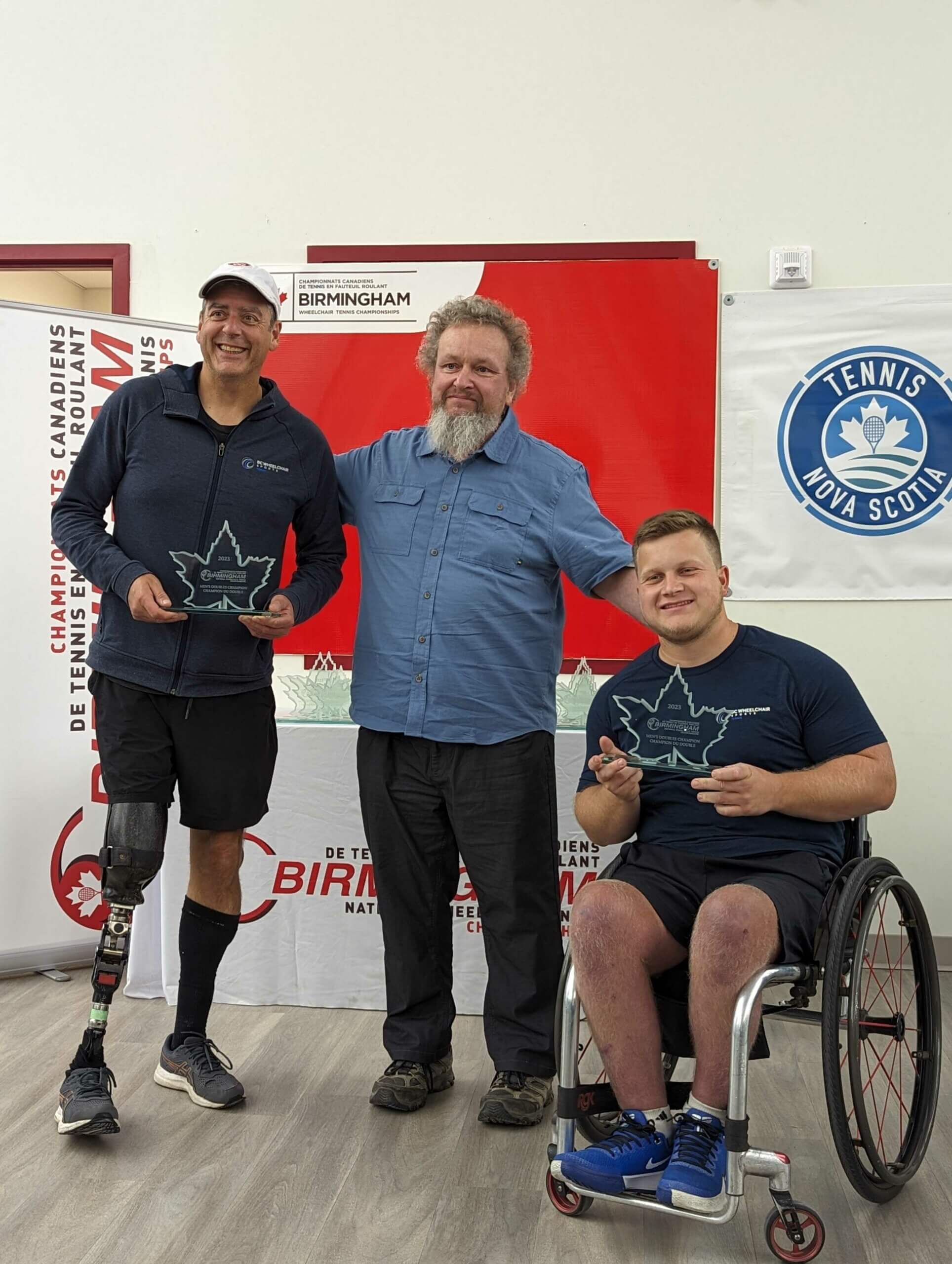 Quad Division
Mitch McIntyre is the new Canadian Quad Champion. He went undefeated in the Quad Singles' Round Robin to capture his first National Singles' title and then paired up with Ontario's Gary Luker to add the Doubles' crown to his collection.

Mitch also received a Tennis Excellence Award as Canada's Most Improved Wheelchair Tennis Player.
Junior Singles
A trio of BC juniors competed in the Junior division with John Chen winning back-to-back Canadian junior titles to cap off his strongest season to date. Lachlan Sandford finished 2nd, picking up his fourth victory of the overall tournament at the expense of teammate Samuel Peters, who gained valuable experience with plenty of matches in Bedford. 

It's fantastic to have the Junior Division at Birmingham Nationals, and it's been amazing to see the progress of all three junior athletes from tournament to tournament. The future of BC Wheelchair Tennis is definitely bright. 

Lachlan Sandford also won the inaugural Birmingham Sportsmanship Award. Everyone at BCWSA is very proud of Lachlan for this meaningful accomplishment. 

Thank You
Thank You, and congratulations to all of the athletes on their hard work and accomplishments over the course of the season. A special shout-out goes to Team BC coaches Sarah Hunter and Matt Bees for helping ensure every Team BC athlete is well-prepared and ready for competition.

Thank You to Tennis Nova Scotia and the Sobeys Atlantic Tennis Centre for hosting an incredible Nationals and making the team's trip to Nova Scotia a memorable one.
What's Next
Thomas Venos, Mitch McIntyre and Barry Henderson all off to represent Team Canada at the Parapan Am Games in Santiago, Chile next month! The wheelchair tennis competition is scheduled to run from November 19-25 and we'll share more info soon.

To learn more about Wheelchair Tennis programs in BC and find out how to get involved as an athlete, coach or volunteer, contact Michelle McDonell at michelle@bcwheelchairsports.com