Have A Go At Wheelchair Tennis in the Fraser Valley

massive-dev  |  October 2, 2018
BC Wheelchair Sports has exciting news! Wheelchair tennis is coming to the Fraser Valley with a free Have-A-Go Day on October 13th at the Great West Fitness and Tennis Club in Abbotsford.
The Have-A-Go Day will be a kick off to our brand new Fraser Valley Wheelchair Tennis Program beginning Saturday October 27th and running until Saturday December 8th at the same facility. Lessons will be run by Steve Manley – BCWSA's Provincial Team Coach – alongside a coach from Great West and athlete Barry Henderson.
Registration is $35 and, as always, all equipment will be provided.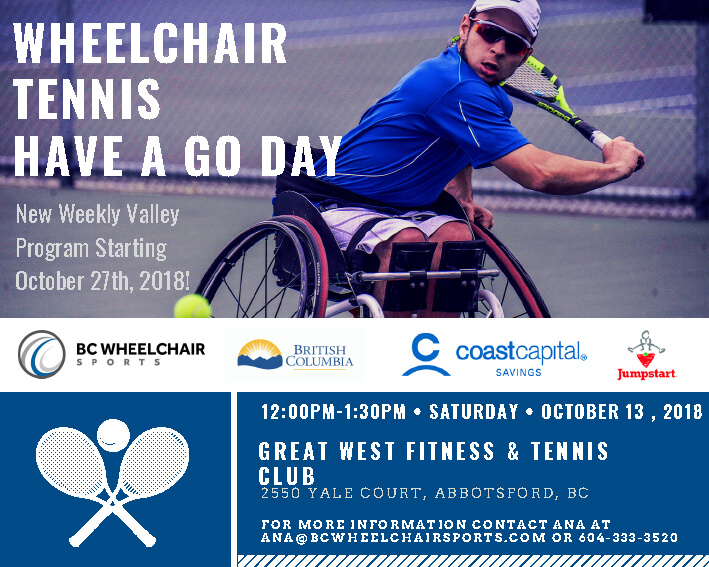 Program Info
WC Tennis Have a Go Day
Date: Saturday October 13th
Time: 12:00 – 1:30 pm
Where: Great West Fitness & Tennis Club – 2550 Yale Court, Abbotsford BC
Cost: FREE
Contact:Ana Karanovic – ana@bcwheelchairsports.com | 604.333.3520 ext. 209
Valley WC Tennis Program
When: Saturdays 12:00 – 1:30 pm beginning October 27th
Where: Great West Fitness & Tennis Club – 2550 Yale Court, Abbotsford BC
Cost: $35
Register: Forward registration form to Michelle McDonell – at michelle@bcwheelchairsports.com