Wheelchair Rugby Development Series (Junior Session)

massive-dev  |  October 21, 2021
Wheelchair Rugby is back this fall and as part of our new Wheelchair Rugby Development Series, we're trying to get more people involved in this exciting, fast-paced and physical sport. We've had a number of young players come through our programs in recent years and we're excited to be focusing part of our Development Series on getting more juniors interested and involved in Wheelchair Rugby!
Junior Athletes are invited to come out to the Richmond Olympic Oval, try out a rugby chair, learn the rules of the game, and develop their key skills. Participants will also have the opportunity to meet some of our Provincial Team Athletes and/or coaches who will be on hand, to provide mentorship and support as the next generation begins their wheelchair rugby journey.

Wheelchair Rugby is an exciting co-ed team sport created for athletes with an impairment in 3 or more limbs and is often an excellent fit for participants with Cerebral Palsy, Tranverse Myletis, Chacot-Marie-Tooth, Arthrogryposis, limb loss/limb differences and other impairments. Equipment will be provided and participants are encouraged to bring along a sibling and/or a friend.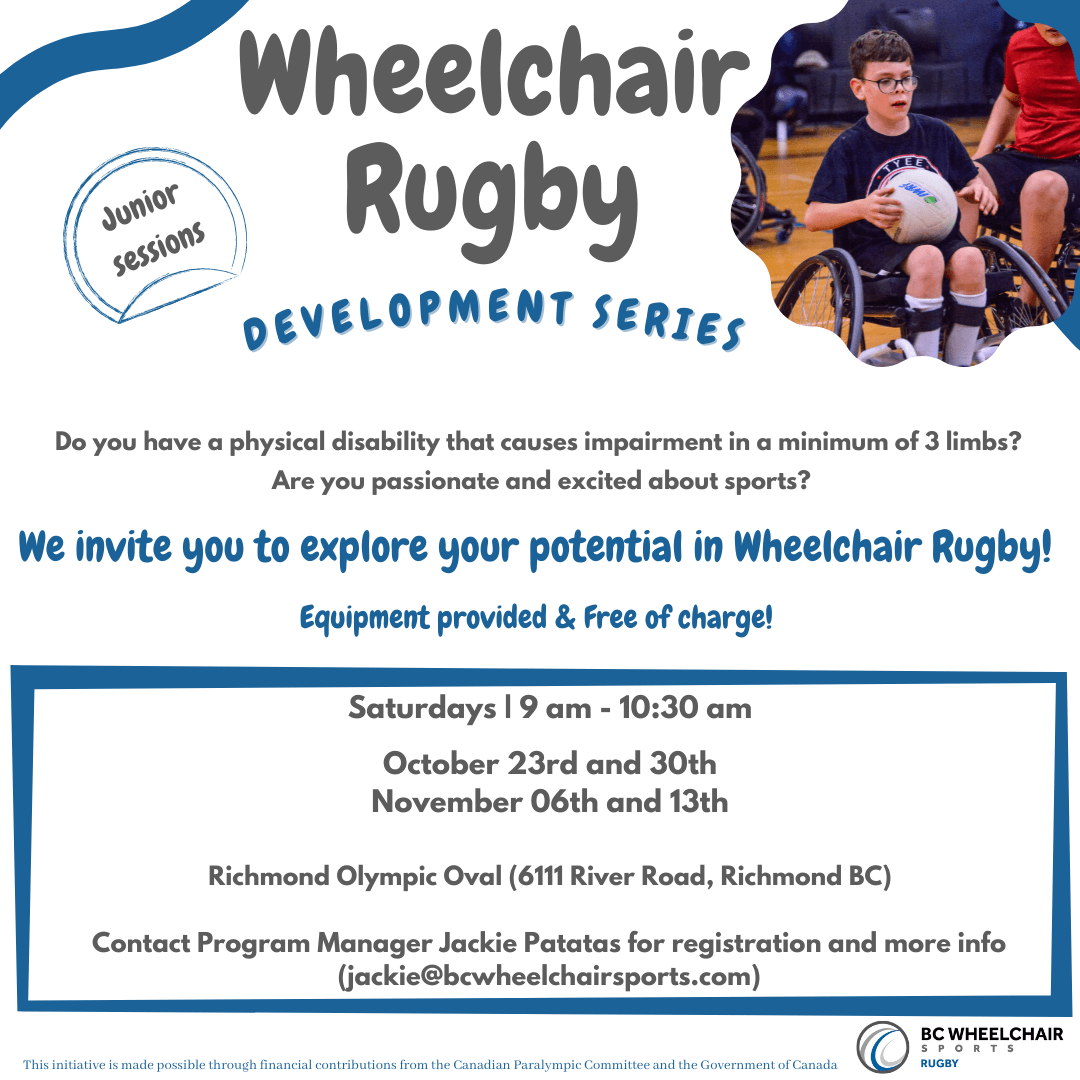 Wheelchair Rugby Development Series (Junior Sessions)
Dates: Saturday October 23rd, October 30th, November 6th and November 13th
Time: 9am-10:30am
Location: Richmond Olympic Oval (6111 River Road)
Contact: Program Manager Jacqueline Patatas at jackie@bcwheelchairsports.com to RSVP.
EVERYONE'S JOURNEY IS DIFFERENT BUT THEY ALL START WITH THE FIRST PUSH!